« Accommodements locaux, sauvegardes, contributions : le cas des campagnes de Flandre de la guerre de Succession d'Autriche (1744-1748) »
Résumé de l'article en français au bas de la présente page // Abstract of the article in English below.

Article publié dans :
Neutralités, sauvegardes, accommodements : micro-histoire des arrangements face à la guerre et à l'occupation, Berne, journées d'étude des 9 et 10 nov. 2007, sous la dir. des Prof. Christian Windler (Université de Berne) et Jean-François Chanet (Université de Lille III). Rennes, Presses Universitaires de Rennes (PUR), 2009, p. 339-360.
Quatrième de couverture du livre : cliquer ICI.
Table des matières du livre : cliquer ICI.
Texte intégral de l'introduction du livre, par le professeur Christian Windler : cliquer ICI.

Peut être commandé par exemple ICI.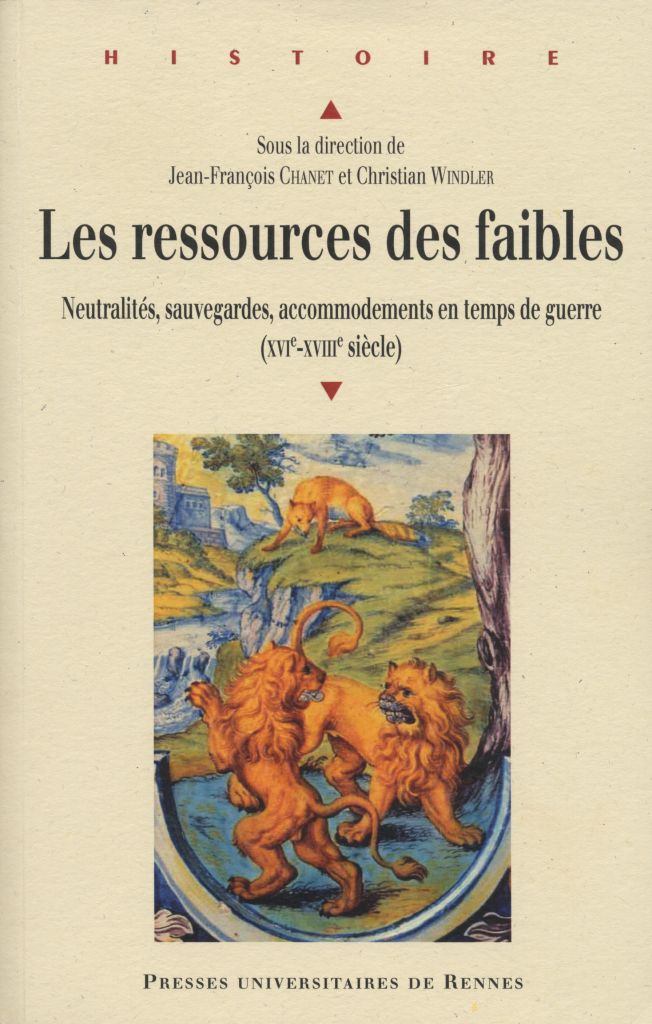 Résumé introductif en français :
La période de guerre n'était pas faite que d'opérations militaires. Les villes, objets de conquête, devenaient ensuite objets d'administration ; la circulation des hommes entre les lignes des combattants continuait car les affaires du temps de paix continuaient tant bien que mal en temps de guerre, moyennant des autorisations de passage ; la présence des troupes occasionnait aussi, parfois, un commerce fructueux. Ce sont ces rapports au quotidien, ces accommodements du temps de guerre, que l'article décrit. Le point de vue français, dans ces campagnes qui furent victorieuses pour la France, permet de mesurer le comportement d'une armée et d'une administration d'occupation. Les sources utilisées pour cette étude sont essentiellement, à côté des souvenirs d'un soldat, des correspondances d'officiers, dont celle d'un lieutenant-colonel de cavalerie, Antoine Sablon du Corail, qui a été en grande partie publiée en 1929, et que j'ai découverte en 2007.
Résumé de la communication en anglais :
Page Internet où se trouvent les deux documents PDF utiles (programme du colloque et résumés – en anglais – des communications) :
http://www.hist.unibe.ch/content/tagungen/neutralisierungspraktiken/index_ger.html
Le résumé en anglais de la communication présentée le 9 novembre 2007 dans le cadre du colloque à l'Université de Berne se trouve ici :
http://www.hist.unibe.ch/unibe/philhist/hist/content/e1326/e4921/e5016/datei/datei/conference-report_ger.pdf
Ou ici :
http://hsozkult.geschichte.hu-berlin.de/tagungsberichte/id=1895
The analysis of Sandrine Picaud-Monnerat (Berne) focusing on the towns of Hainault Province in the Southern Netherlands – then under Austrian rule – during the War of Austrian Succession, shows a slow but visible change of practices. Under the impression of the outrages of the Thirty Years War, the hostile parties moderate their practices and come to a modified behaviour. Safeguards and accommodements play a prominent role in this, as they allow in the cases of French conquest of towns like Charleroi, Namur or Mons, to take over the urban centres without plunder. Those practices are linked to a soft style of control: while the French intendant de Lussey ["Lucé", in fact] puts the inhabitants of each town under the supervision of a sub-delegate, local structures are largely kept in place (with the hotly disputed exception that the Hainault orders protest against the loss of authority of the Mons tribunal). Until the restitution of the Southern Netherlands in 1748, those regulations also facilitate the concession of passports, by the French crown, in order to improve the situation of commerce under war conditions. The growing effectiveness of such rules of neutralisation is, in some way, counterbalanced by the continuing existence of flagrant abuses. The French army commander General de Saxe is suspected to employ safeguard money to pay private debts. French soldiers of all ranks profit from the rather calm situation of the safeguarded regions to transform those in a giant market to sell items from a few sacked places, such as Bergen-op-Zoom. Nonetheless, Picaut-Monnerat's examples demonstrate a movement towards less outrageous practices of warfare against civilians in the first half of the 18th century.